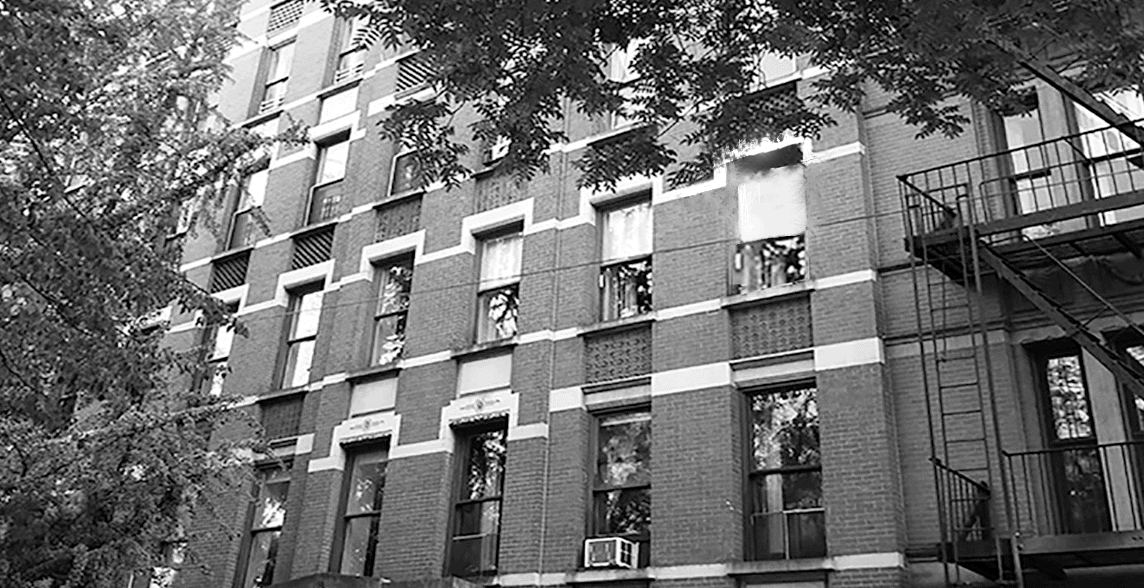 About Bricks and Murder
Follow the intrigues of The Armitage, an aging apartment house on the outskirts of Chelsea, one of Manhattan's hottest neighborhoods. Residents clash as they navigate the changing landscape of their slice of the Big Apple.
The local bodega is now an art gallery. The condos on the corner have car elevators. Their building has been sold, and nobody knows who bought it. And suddenly everybody is under suspicion when one of their newest residents turns up dead in the back yard.
PODCAST FEATURES
Each 20-30 minute episode interweaves multiple storylines and ends with a cliffhanger
Diverse characters and stories that blend mystery, romance, murder, humor, and fantasy
Goodies, the on-premise café, hosts performances by musicians, singers, poets, and comics
Robust website includes episodes and engages visitors with blogs, diaries, comic strips, and other related content.
Sponsorship opportunities are open for customization
Produced by Writers Actors Collective, LLC
Writers Actors Collective is a group of artists who create and tell stories for all media.
BRICKS AND MURDER: SERIES CREATORS
Beth Adler
Stephanie Braxton
Kathryn Danielle
Marianne Matthews
Dara O'Brien
TRACY BEALE. New to the Armitage, she just lost her job, and her hold on reality isn't far behind. A bi-polar, self-medicator (booze, pills, and sex) who has her eye on Damon. Think Single White Female meets Leaving Las Vegas.
CHIARA DE SOL. Newly widowed and of indeterminate age. She's hungry for adventure and curses like a sailor. She claims to have psychic powers. Does she?
JOY DANILE. A southern belle approaching middle age who loves life, men, and her poodle, Pinkie. She's a serial hobbyist with a year-round tan, and a former Miss Young Mobile. Think Steel Magnolias meets Sex and the City.
VIKTORIA VAKHRUSHEVA. A Russian émigré con artist who lives by her wits, dumpster dives for profit, and has deep connections to the Russian mob. Willie the Super may have met his match.
NIK MULLENS. Viktoria's grown son. He's homeless and in trouble with the law–and that's just for starters. Can out-con his mother by a mile and is probably a psychopath. He's on the hunt for his next mark: Joy needs to watch out.
ESTELLE BARBER. An out-of-work actress who is fast passing her prime and fighting it every step of the way. And since she used to be a he whose first job was as a chorus boy in the road company of La Cage aux Folles, she knows a thing or two about remaking herself. Think The Danish Girl with a touch of Norma Desmond.
TODD ANDERS, an aspiring young actor who looks like a movie star and sounds like a surfer-dude. Not the sharpest knife in the drawer, but all-business when he thinks Estelle may be his ticket to fame and fortune.
TOM GAVIGAN. A beyond studly detective who arrives on the scene to investigate Mary's death. The women of the Armitage are more than happy to cooperate.
MARY LAFFERTY. Former Headmistress of an upscale girls' school. Jailed for the murder of her lover and newly released, she takes up residence at The Armitage. Hates everyone and everything. Tends feral cats that are almost as mean as she is. Think Golden Girls meets Livia Soprano. Her suspicious death gives our series its name and creates a seismic shift in the life of the Armitage.
WILLIE MARROW, THE SUPER. Aging bachelor and wannabe ladies' man. A third-generation Armitage resident and the only one who knows all the building's secrets–and he plans to keep it that way. A Paul Blart, Mall Cop type who thinks he's James Bond.
PATTY MERCER. Owner of Goodies, the café on the ground floor. Eager to escape her past and make Goodies a focal point of the NYC music scene, starting with her new open mic series. She's the emotional center of the Armitage community, always ready to listen, but slow to reveal anything about herself.
JAKE PASCAL. Itinerant French photojournalist and Patty's ex. He wants Patty back, and he knows how to be persuasive. Rugged, sexy, and a little dangerous.
HAYLEY BRANDT MOORE. Married to Damon, and raising their two kids mostly on her own. Feeling the strain of picking up the slack for her mostly-absent husband and taking care of her needy drunk of a mother. A control freak on the edge.
DAMON MOORE. Jazz musician married to Hayley. He plays the ladies almost as well as he plays tenor sax. After fourteen years of marriage to Hayley, he's ready for something new. Think Denzel Washington in "Mo' Betta Blues."
MADDIE MOORE. Hayley and Damon's 12-year-old biracial daughter. Wants to break free almost as much as her father does. A budding writer who sees everything, but isn't sure what to make of it. Wary, curious, and eager for her life to begin.
BECOME A SPONSOR
Bricks and Murder offers your brand completely customizable sponsorship opportunities for maximum impact with our engaged listener base. Sole or shared options are open for discussion.
ON OUR PODCAST
• Custom audio messaging tailored to your brand objectives.
• Product placement/native advertising
• Talent showcase (performances in Goodies Café)
• Educational messaging integrated into storylines
ON OUR WEBSITE
• Custom advertising, including banners (leaderboard, skyscraper, billboards, etc.)
• Social media feeds
• Rich media/site takeovers
• Skinned home page
• Video
• Interstitials
• Product placement, native advertising
FOR MORE INFORMATION ABOUT BRICKS AND MURDER OR TO DISCUSS SPONSORSHIP OPPORTUNITIES CONTACT MARIANNE MATTHEWS AT 917.689.0388 or bricksandmurder@gmail.COM
Story by: Beth Adler, Stephanie Braxton, Kathryn Danielle, Marianne Matthews, Dara O'Brien,
Script by : Stephanie Braxton
Produced by Daniel Srebnick
Co-directed by Stephanie Braxton and Daniel Srebnick
Original music by Daniel Srebnick
Audio production by Anonymous Sources Music
Cast (in order of appearance)
Gavigan: Max Rhyser
Patty: Kathryn Danielle
Mary: Stephanie Braxton
Jake: Pascal Escriout
Willie: Jeff Goldstein
Hayley: Dara O'Brien
Maddie: Lorelei Cadorette
Damon: Jeff Woods Garlin
Tracy: Anne Stockton
Viktoria: Beth Adler
Nik: Hazen Cuyler
Estelle: Susan Laubach
Todd: Quinn Coughlin
Chiara: Ellen O'Neill
Joy: Marianne Matthews
the podcast boom
A Growing Market
PODCAST LISTENERSHIP / Pew Research Center, June 15, 2016
Americans are listening to podcasts, according to survey data from Edison Research. As of 2016, 21% of Americans age 12 or older say they have listened to a podcast in the past month, reflecting steady incremental growth since 2013 – when this share was 12%. That percentage rises to 36% when it comes to those who have ever listened to a podcast – double the share who had done so in 2008, according to Edison. And, reflective of the country's shift to mobile more broadly, mobile devices (smartphones, tablets or other portable devices) are increasingly preferred over desktops or laptops for podcast listening. In 2016, 64% of Americans age 12 or older who have ever listened to a podcast said they were listening "most often" on a mobile device, compared to 55% in 2015. Conversely, 34% said in 2016 that they listen most often on a desktop or laptop computer, while 42% said this in 2015.
THE ASTOUNDING GROWTH OF PODCASTING / Copyblogger, March 2016
Starting today, you could create and launch a podcast in 30 days, have it build an audience of rabid fans, and – through the pose of podcasting – potentially reach millions of people around the world.
Read the full article, with growth of podcasting infographic →
PODCASTING IS THE FUTURE OF STORYTELLING / Forbes.com, March 31, 2016
The year 2015 was a huge year for podcasting. Chris Giliberti, Chief of Staff, Gimlet Media, believes podcasting will become the most important storytelling medium.
THE (SURPRISINGLY PROFITABLE) RISE OF PODCAST NETWORKS / FastCompany.com, September 24, 2014
"Podcast ads work really well," said Adam Sachs, CEO of Midroll Media, the parent company of the podcast network Earwolf and the podcast ad-sales network Midroll. Podcasts ads are unique. Unlike advertising on almost any other medium, people like the interruption, mid-program, to learn about Squarespace and stamps.com. "People really pay attention to the ads," Slate's podcasting guru Andy Bowers says.
FOR MORE INFORMATION ABOUT BRICKS AND MURDER OR TO DISCUSS SPONSORSHIP OPPORTUNITIES CONTACT MARIANNE MATTHEWS AT 917.689.0388 or bricksandmurder@gmail.COM